Volunteers are crucial to our success and help serve the Christ Child mission. There are many areas in which you can share your talents – we are sure you will find something that interests you!
Grant writing – We are continuously looking for individuals to assist us with this important work. If you have some experience with grant writing and are interested in helping, please contact our grant writer at 262-691-9422. Experience is appreciated but not necessary.
Knit or crochet – We gratefully accept donations of baby blankets, sweaters, hats, mittens, etc.
Arts or craft projects – You might be interested in facilitating a craft project for our moms and/or kids who attend our Second Saturday Program.
Computer work – If you enjoy computer work, we always need help managing our database or selling items on eBay.
Fundraising programs and events – like helping set up events and fundraising?
Read to, and work with, children – our 2nd Saturday Outreach meets with mothers and their children. We provide books, work on reading and craft projects, have a hot lunch and enjoy tine together. The Program is held for several hours on the 2nd Saturday of the month.
Tutoring at elementary school – Do you enjoy working with school children and helping them learn?
Work at our Resale Shop & Boutique – You'll get first choice on some really great items.
Assemble the beautiful layettes – Perhaps you'd like to volunteer with our Layette program. Volunteers meet on the third Thursday of each month.
Assemble "My Stuff" Bags – Join the women who volunteer and meet on the first Thursday of each month.
Please contact the Chair of the 2nd Saturday Program at 414-540-0489 to volunteer or discuss ways to become involved. We would welcome you with open arms!
We welcome your generosity which allows the Christ Child Society to continue our shared mission. Your contributions are used to meet the most pressing needs for the material, educational and emotional needs of our community's smallest members.
In-Kind Donations
Memorials
Bequests
United Way Designation
Matching Gifts
The Milwaukee Chapter of the Christ Child Society welcomes new members from the greater metropolitan Milwaukee area.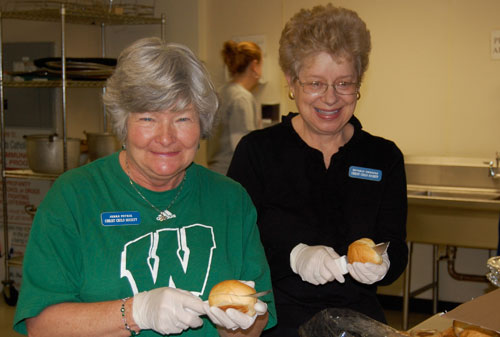 While comprised of many Catholic women, membership is open to anyone and all denominations.
New members are welcome year round – the chapter has a rolling application process. The first year is called the provisional year, a time of orientation, when new members become acquainted with the chapter's many volunteer activities. With a variety of service programs available, members are encouraged to participate in activities that meet their interests and availability. Provisional members are welcomed as active members at the Spring Mass and Banquet.
Each provisional works with a sponsor, an active CCS member, who will mentor and assist the provisional in her participation. If a new member does not have a sponsor the chapter will gladly provide one.
Active membership annual dues are $50.
If you wish to receive a membership application, contact Katie Clark at ktjc@wi.rr.com.