Volunteers are crucial to our success and help serve the Christ Child  Society's mission. There are many areas in which you can share your talents.  We are sure you will find something that interests you!
You can:
Assemble or distribute Layettes – If you want to help needy newborns, volunteer to assemble Layettes, our signature project.  Our volunteers meet at 9:00 a.m. on the third Monday of each month.
Assemble or distribute My Stuff Bags – If you want to help children who are experiencing a crisis, then join our My Stuff Bags volunteers. They meet at 9:00 a.m. on the first Thursday of each month.
Become a Library Aide – If you love to read and want to foster the love of reading in children, then become a library aide at an elementary school.
Conduct children's vision screenings – If you are looking for a flexible and very rewarding volunteer opportunity, become a certified vision screener and screen children for vision problems at parochial schools. Training is required.
Design posters, leaflets or brochures – If you are artistic or have a background in graphic design, we can certainly use your skills.
Facilitate arts or craft projects – If you like doing creative things, you can volunteer to plan or implement an art or craft project for our moms and/or kids who attend our Second Saturday Program.
Fundraise and plan events – If you like helping set up for special events and enjoy fundraising, we can certainly use your talent. We are always looking for new ideas.
Knit or crochet – If you like to knit or crochet, we welcome donations throughout the year of baby blankets, sweaters, and hats, as well as children's hats mittens and scarves.
Perform computer work – If you enjoy computers, volunteer to help manage our databases, sell items on eBay and Craigslist, maintain our website, or update our Facebook page.
Promote our organization – If you like to write and would enjoy spreading the word about the important work that the Christ Child Society does we can certainly use your skills and talents.
Read to and work with children – If you like to work with mothers and their children, volunteer for our Second Saturday Program. We provide books, work on reading and craft projects, and enjoy a hot lunch while spending time together.  The program is held for two hours on the second Saturday of the month, excluding June, July and August. Please contact the Chair of the Second Saturday Program to volunteer or discuss ways to become involved. We will welcome you with open arms!
Tutor at an elementary school – Do you enjoy working with school children and helping them learn?  Then, become a tutor and help them succeed.
Work at our Resale Shop/Boutique – There are many volunteer opportunities available. The Resale Shop is open on Tuesdays and Thursdays and on the 1st and 3rd Saturdays of the month. You'll get first choice on some really great items!
Write grants – If you have some experience with grant writing or you like to write and would like to raise funds for our organization, please contact our grant writer. Experience is appreciated, but not necessary.
To learn more contact: [email protected].
We welcome your generosity which allows the Christ Child Society to continue our shared mission. Your contributions are used to meet the most pressing needs for the material, educational, and emotional needs of children in our community. We gratefully accept:.
Bequests
In-Kind Donations
Memorials
Planned Gifts & Matching Gifts
United Way Designations
Send monetary donations to:
Christ Child Society-Milwaukee Chapter
c/o The Merrick Center
4033 W. Good Hope Road
Milwaukee, Wisconsin 53209-2268
Please make your check payable to the Christ Child Society – Milwaukee Chapter.
Address questions regarding establishing a Legacy or trust to the Fundraising Director. Her telephone number is 414-313-0232.
The Christ Child Society – Milwaukee Chapter is a 501(c)(3) non-profit organization. All donations are tax deductible as defined by law.
The Milwaukee Chapter of the Christ Child Society welcomes new members from the greater metropolitan Milwaukee area.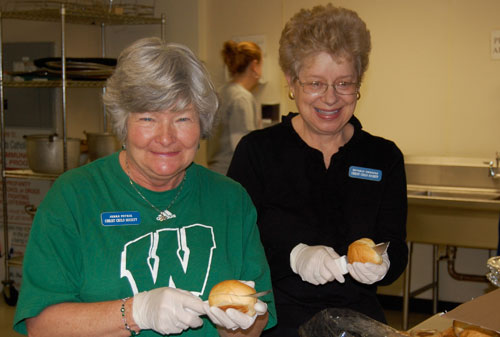 While comprised of many Catholic women, membership is open to anyone and all denominations.
New members are welcome year round – the chapter has a rolling application process. The first year is called the provisional year, a time of orientation, when new members become acquainted with the chapter's many volunteer activities. With a variety of service programs available, members are encouraged to participate in activities that meet their interests and availability. Provisional members are welcomed as active members at the Spring Mass and Banquet.
Each provisional works with a sponsor, an active CCS member, who will mentor and assist the provisional in her participation. If a new member does not have a sponsor, the chapter will gladly provide one.
Active membership annual dues are $75.