In December 1884, Mary Virginia Merrick was told about a woman who would soon give birth and who had no clothes for her baby. Quickly organizing her sisters and friends, Mary Virginia provided a complete layette in time for the infant's arrival. This was the beginning of what became the signature program of the Christ Child Society – the Layette program. Other service programs soon followed as members identified ever-changing needs within the community.
Members lead, organize and support these Follow the Child programs that impact the children in our community:
Since 1948, the Christ Child Society – Milwaukee Chapter has provided needy newborns in the greater Milwaukee area with complete layettes.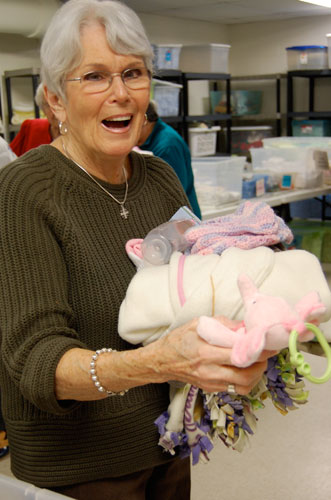 The following items make up a layette:
1 crib blanket, afghan or quilt
1 receiving blanket
1 sweater set or zipped sweatshirt
2 onesies
2 sleep and plays
1 blanket sleeper
2 pairs of socks
1 knit hat
1 board book in English or Spanish
1 bottle
diapers in size newborn or 1
Clothing size is 3 – 6 months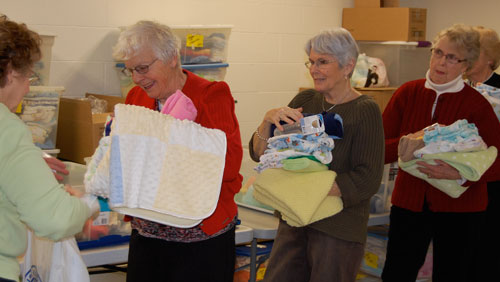 Included in the layette is a pamphlet on Shaken Baby Syndrome, a flyer for the Christ Child Society Resale Shop, and a flyer for our Second Saturday program for mothers and their children. Each layette is valued at approximately $175.00.
The Layette program is the signature program for all Christ Child Society Chapters. Members donate to the program by knitting or crocheting hats, blankets, and sweaters and by hemming blankets. Members can also purchase Layette items that they wish to donate. We also gratefully accept donations from the community for our Layette program.
Members meet on the third Monday of each month to assemble layettes which are distributed to needy newborns at hospitals in the Greater Milwaukee area. Each month, approximately 120 layettes are distributed.
Concern about children who have been removed from homes because of abuse, neglect or natural disaster led Christ Child Society members to initiate the My Stuff Bags program. Often, children in crisis leave home suddenly or without notice to pack clothing or personal items.
My Stuff Bags are given to social service agencies for distribution to children in crisis. They bring comfort to children placed in difficult situations and remind them that someone cares about them.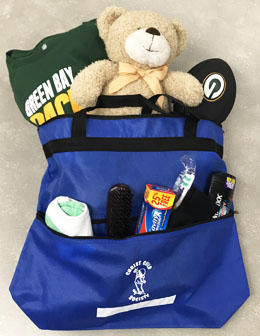 Members purchase, collect, and make items for the My Stuff Bags, which are filled with the following essential items for children sizes 2 to 18:
1 pair of pajamas
2 shirts
2 pairs of socks
2 pairs of underpants
toothbrush and toothpaste
hair brush
1 stuffed animal or Nerf football
deodorant for older children
hat, scarf, and mittens in winter
All items are packed in a canvas bag that the child owns (with a spot for their name on it) as a tool to empower them.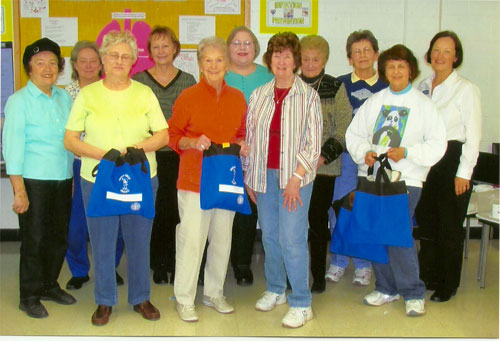 Even with the most cost-effective shopping, My Stuff Bags are costly to assemble. Each My Stuff bag is valued at approximately $75.
Every year, Christ Child Society's Milwaukee Chapter distributes approximately 1,000 My Stuff Bags through agencies in the Greater Milwaukee area. Members meet on the first Thursday of each month to assemble My Stuff Bags.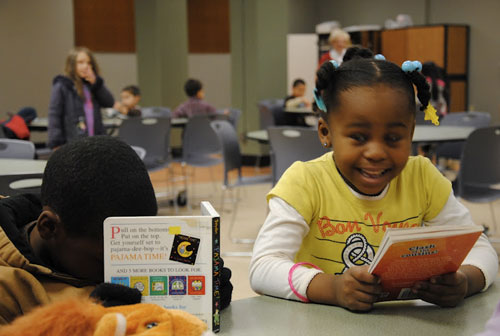 The mission of the Second Saturday Program is to help mothers and their children by providing a regular meeting place where they can participate in social and educational activities with an emphasis on reading. As the name implies, the program meets on the second Saturday of the month, from September through May, from 11:00 a.m. to 1:00 p.m.
The Second Saturday program encourages literacy. Members read to children at each meeting, followed by an activity or craft project. Each family is given a book to take home. A variety of educational and recreational programs for mothers are provided, including stress reduction exercises, a craft project, and journaling.
Lunch is provided for all in attendance. Volunteers from area schools assist at Second Saturday by planning craft projects, donating snacks and lunch items, and as student volunteers. For more information about volunteering at Second Saturday, contact us at 414-540-0489.
Christ Child Society members volunteer throughout the school year at Blessed Savior South Elementary School as tutors.  They help and encourage children to become better students and assist teachers in many ways. The Christ Child Society Milwaukee Chapter is pleased to have provided the following support for students, teachers, and staff:
Computers, computer maintenance, and software for the computer lab
Two mimeos that make the Smartboard available to all grades
An Internet connection for each classroom
Books and materials to update the school's library
Books and school supplies
Funding for teacher computer education and training
Through these gifts, the Christ Child Society hopes to create an environment that cultivates  a love of learning among students, fosters self-esteem, and improves math and reading skills.
School Support Services assists schools by helping to supplement various programs that benefit their students. The following schools received financial support from the Christ Child Society for 2021-2022:
St. Joan Antida High School
St. Coletta's Day School of Milwaukee
Messmer Catholic Schools
Blessed Savior South Elementary School
During the school year, Christ Child Society members, who are certified as children vision screeners by Prevent Blindness Wisconsin, conduct vision screenings at parochial schools in the Greater Milwaukee area. Several hundred children (pre-school students as well as older identified students) are screened. Approximately, 10% of the children are referred for a complete eye exam. For students who qualify financially, Prevent Blindness Wisconsin can provide free eye exams and glasses.
   BABIES and CHILDREN
SERVED BY OUR ORGANIZATION
in the 2022-2023 FISCAL YEAR

Infant Layettes
Over 1,200 Layettes distributed to hospitals and social service agencies for needy newborns.  A team of approximately 24 women assemble layettes each month.

Donated items that could not be used in Layettes were given to 5 agencies.
My Stuff Bags

Over 800 My Stuff Bags were assembled and distributed to 6 shelters and agencies for children in crisis removed from their homes.  These bags are assembled by about 20 monthly volunteers.
Second Saturday 

After an almost 3 year interruption, Second Saturday started up again in January and participants have increased each month.

School Support Services
4 schools received financial assistance for programs to benefit students

CCS has teacher assistants at Blessed Savior South Elementary School
  Vision Screening 
800 children screened by 15 vision screeners at 16 parochial schools 

Approximately 10% of the children referred for a complete eye exam