In December 1884, Mary Virginia Merrick was told about a woman who would soon give birth and who had no clothes for her baby. Quickly organizing her sisters and friends, Mary Virginia provided a complete layette in time for the infant's arrival. This was the beginning of what became the signature program of the Christ Child Society – the layette program. Other service programs soon followed as members identified ever-changing needs within the community.
Members lead, organize and support these "Follow the Child" programs that impact the smallest members of our community:
Since 1948, the Christ Child Society's Milwaukee Chapter has provided needy newborns in the greater Milwaukee area with a complete baby layette.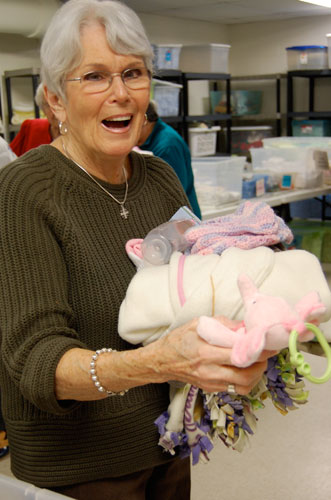 The following items make up a layette:
1 Crib Blanket or Afghan or Quilt
1 Receiving Blanket
1 Sweater Set or Pram
2 Onesies
2 Sleep and Plays
1 Blanket Sleeper
2 Pair of Socks
1 Hat (knitted)
Clothing size is 3 – 6 months
1 Board Book (English or Spanish)
Diapers (Size Newborn or Size 1)
1 Bottle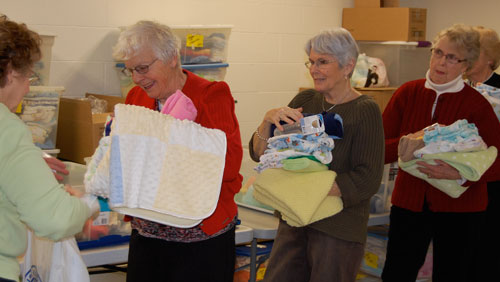 Included in the layette is a pamphlet on Shaken Baby Syndrome, a flyer for the Christ Child Society Resale Shop and a flyer for our Second Saturday program for mothers and their children. Each layette is valued at approximately $175.00.
The layette program is the signature program for all Christ Child Society Chapters. Members donate to the program by knitting or crocheting hats, blankets, sweaters and by hemming blankets. We also look to the community for donations to the layette program.
The Milwaukee Chapter assembles and distributes 1,800 layettes each year to 22 hospitals and social service agencies in the metropolitan Milwaukee area.
Members meet on the third Thursday of each month to assemble layettes.
Concern about children who have been removed from homes because of abuse, neglect or natural disaster led society members to initiate the "My Stuff" Bag Project. Often children in crisis leave home suddenly or without notice to pack clothing or personal items.
"My Stuff" bags are given to social service agencies for distribution to children in crisis. They bring comfort to children placed in difficult situations and remind them that someone cares about them.
Members purchase, collect and make items for the "My Stuff" Bags, which are filled with the following essential items for children sizes 2 to 18: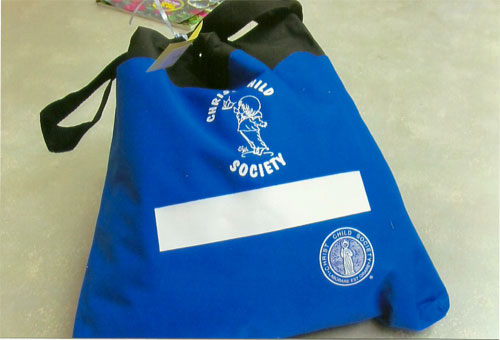 • 1 Pair of pajamas
• 2 Shirts
• 2 Pairs of socks
• 2 Pairs of underpants
• Toothbrush and toothpaste
• Hair brush or comb
• A small stuffed toy or ball
• All packed in a canvas bag that the child owns
(with a spot for their name on it) as a tool to empower them.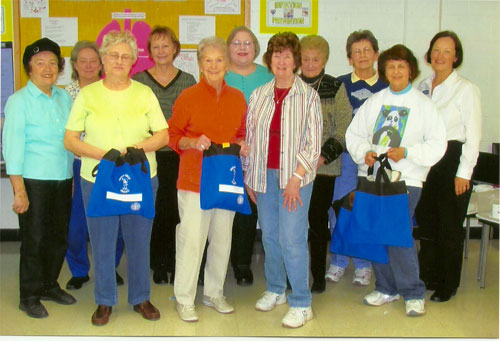 Even with the most cost-effective shopping, "My Stuff" bags are costly to assemble. Each "My Stuff" bag is valued at approximately $75.
Every year Christ Child Society's Milwaukee Chapter distributes more than 900 "My Stuff" bags through agencies in the greater Milwaukee area. Members meet on the first Thursday of each month to assemble "My Stuff" bags.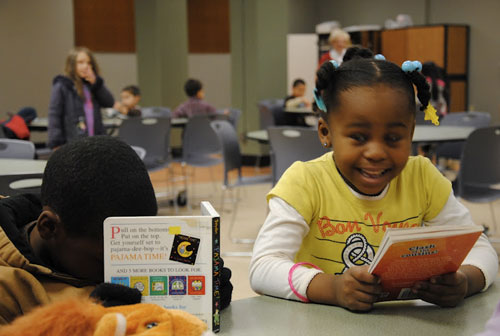 The mission of the Second Saturday Program is to help mothers and their children by providing a regular meeting place where they can participate in social and educational activities with an emphasis on reading. As the name implies, the program meets on the second Saturday of the month, from September through May, 11:00 a.m. to 1:00 p.m.
The Second Saturday program encourages literacy. Members read to children at each meeting, followed by an activity or craft project. Each family is given a book to take home. A variety of educational and recreational programs for mothers are provided, including stress reduction exercises, a craft project, and journaling. A volunteer pediatrician or nurse we call "The Doctor is In" answers questions for mothers.
Lunch is provided for all in attendance. Volunteers from area schools assist at Second Saturday by planning craft projects, donating snacks and lunch items, and as student volunteers. For more information about volunteering at Second Saturday, please contact us at 414-540-0489.
Society members volunteer throughout the school year as tutors and supportive aides – including library aides – at Blessed Savior South Elementary School. They help and encourage children to become better students and assist teachers in many ways. The Christ Child Society Milwaukee Chapter is pleased to have provided the following support for students, teachers and staff:
Computers, computer maintenance and software for the computer lab
Two mimeos that make the Smartboard available to all grades
Internet connection for each classroom
Books and materials to update the school's library
Books and school supplies
Funding for teacher computer education and training
Through these gifts, the Christ Child Society hopes to create an environment that cultivates a love of learning among students, fostering self-esteem and improving math and reading skills.
The Christ Child Society awards $20,000 in scholarships annually to children in the greater Milwaukee area who are not eligible for other educational funding. Through scholarship assistance, recipients are able to pursue their academic goals in Catholic education.
Scholarships were awarded to students at:
Blessed Savior South Campus
St. Joan Antida High School
St. Coletta's Day School of Milwaukee
Messmer Catholic Schools
Northwest Catholic
Prevent Blindness Wisconsin was founded in 1958 to prevent blindness and to preserve sight in Wisconsin.
Since 2009, Chapter members have assisted with vision screening at elementary schools in the Archdiocese.
Members are trained and scheduled.
Christ Child Society "Follows the Child" by addressing the changing needs of children of all ages. Members do this by volunteering at many community-centered groups that help support children:
Ronald McDonald House is dedicated to easing the burden of families whose lives have been disrupted as a result of their child's illness or injury. Christ Child Society provides many volunteers at the Ronald McDonald House every week who assist with everything from meal preparation to making beds. More than 40 member volunteers help families at a difficult time in their lives.
Hope Network empowers people with disabilities or disadvantages to achieve their highest level of independence. Christ Child Society supports Hope Network with layettes for its single mothers. The Second Saturday program is publicized in their newsletter, and chapter members donate books and other needed items to this organization.
St. Coletta Day School is a nonprofit educational program serving children with special needs and provides academic and social curriculum for students from 8 through 17. The Milwaukee chapter has provided scholarships and support for many years. Members volunteer, support their auction and raise funds for scholarships.
St. Francis Children's Center serves children with a wide variety of pediatric issues that affect growth and development including cognitive delays, learning disabilities and behavior challenges. Members volunteer to assist program staff with a variety of needs.
Literacy
   BABIES and CHILDREN
SERVED BY OUR ORGANIZATION
IN 2017:

Infant Layettes
"My Stuff" Bags
979 provided for seven agencies/shelters

Second Saturday Program (Sept thru May)

352  mothers/grandmothers attended

752  babies/children attended


80 backpacks & school supplies provided
 Tutoring and Literacy Program
50 students tutored (K-6 grades) by 4 volunteers


100 new books added to library;  10 volunteers (approx 990 hours) staffed library

 9 Leap Pad computers purchased for first grade

 

  Scholarship & Financial Aid
* 5 students/families assisted

  Vision Screening 
* 1078 children screened (179 children referred)