Mary Virginia Merrick – Our Foundress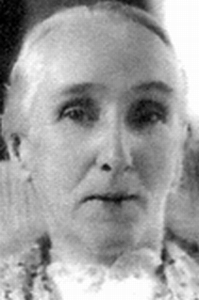 Christ Child Society foundress Mary Virginia Merrick was born in 1866. There were eight children in the family and her father was a prominent lawyer. Her childhood was marked by privilege, yet her parents encouraged their children to help others in need.
In December 1884, Mary Virginia Merrick was told about a woman who would soon give birth and who had no clothes for her baby. Quickly organizing her sisters and friends, Mary Virginia provided a complete layette in time for the infant's arrival. This was the beginning of what became the signature program of the Christ Child Society – the Layette program. Other service programs soon followed as members identified ever-changing needs within the community.
As a result of an accident as a teenager, Mary Virginia was confined to a bed or wheelchair all of her life. This did not prevent her from pursuing her commitment to helping poor children. She recognized the many social needs of children and families in the Washington DC area. She sewed clothing, creating layettes for children, and encouraged her friends to do the same.
Mary Virginia founded the Christ Child Society in 1887. Her motto was "nothing is ever too much to do for a child". Early members made clothes for needy children, established a home for abandoned children, created a summer camp and developed classes for children with special needs.
Other organizations recognized her commitment and service to children. She was awarded many honors for her work and the programs of the society. Her spirituality and love of the Christ Child were an inspiration to others and led to the growth of the society into a national organization.
Formal inquiry of her life and initiation of the cause for canonization began in 2003. Mary Virginia Merrick was declared a Servant of God, the initial step in the process of beatification and canonization.
Learn more about our foundress, Mary Virginia Merrick, and the cause for canonization.